Nikola Tesla is among the "100 Greatest Americans" on Discovery Channel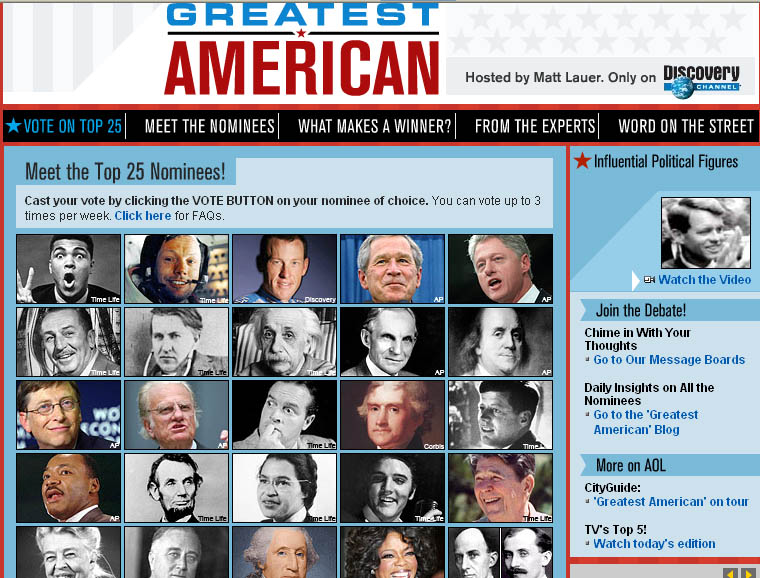 Above: 25 candidates for Greatest American are already elected.
Vote for Nikola Tesla on the Discovery Channel's "Greatest American". Nikola Tesla is one of the top 100 nominees.
Discovery Channel's "GREATEST AMERICAN" this coming Sunday, June 5th at 8:00 pm Eastern and Pacific. Today Show's Matt Lauer will host the three-hour premiere with information on all 100 nominees. At the end of the premiere episode, Lauer will announce the top 25 greatest American nominees based on nominations held earlier this year. Viewers can then cast votes online, via toll-free numbers or via text messaging for their Greatest American. Voting will start immediately after the show airs on Sunday, June 5th and go until Monday, June 13th at 11:59pm EST.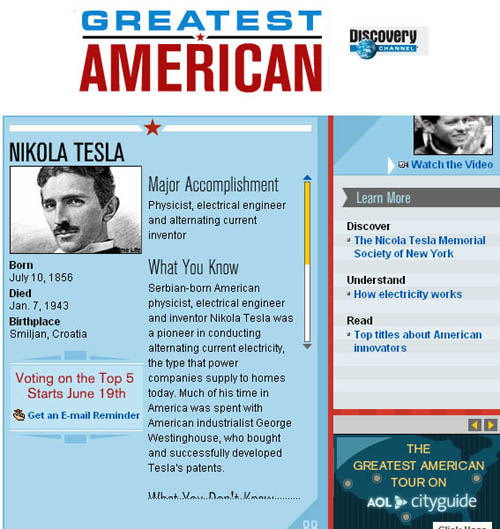 In the second episode, Matt Lauer and advocates (actors, comedians, politicians, athletes, etc) will offer insights on the top 25 to aid America in another round of voting that determines the top five. The third episode pits celebrity advocates against one another, debating the virtues of their "Greatest American." The seven-hour series culminates in real-time election-style voting, as America selects one person to be named the "Greatest American." The grand finale will be televised live from New York City on Sunday, June 26, at 9 PM (ET).
The nominees come from all walks of life including politics, the arts and sciences, entertainment and athletics. If you haven't already done so, learn more about your favorite nominees by visiting keyword Greatest American on AOL or AOL.com/GreatestAmerican. Be sure to also check out www.GreatestAmericanBlog.com where you and your members can post your comments on who should be named the Greatest American.
And don't forget to tune in this Sunday, June 5th at 8:00pm Eastern and Pacific on the Discovery Channel! Don't miss the chance to help America determine the Greatest American.