The Famous Friends of Nikola Tesla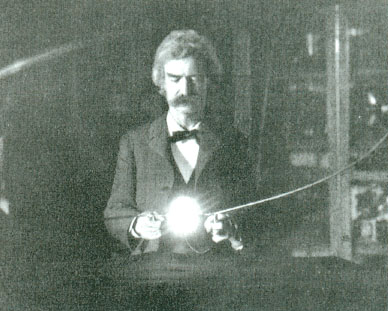 Above: Mark Twain in Tesla's Laboratory at 35 South Fifth Avenue, 1895. Tesla was good friends with Mark Twain, famous American writer.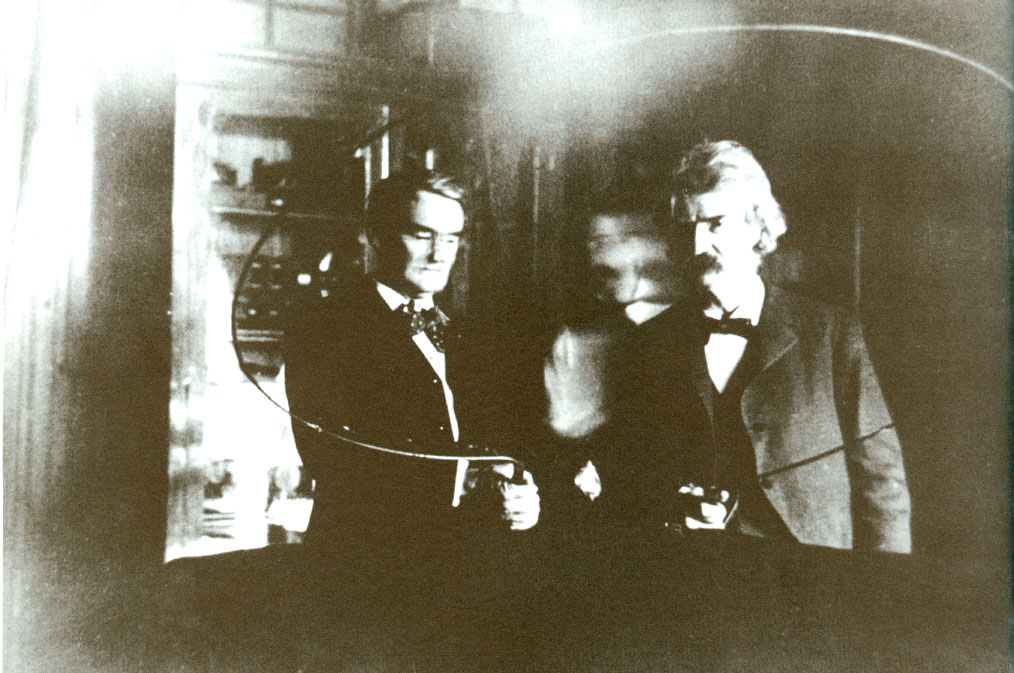 Above: Mark Twain and Joseph Jefferson in Tesla's South Fifth Avenue Laboratory, 1894, Tesla's image is blurred between them.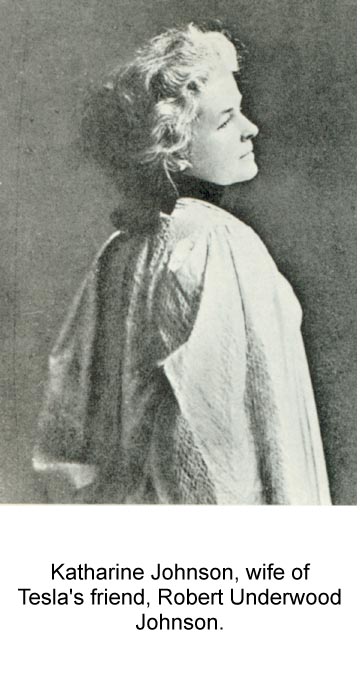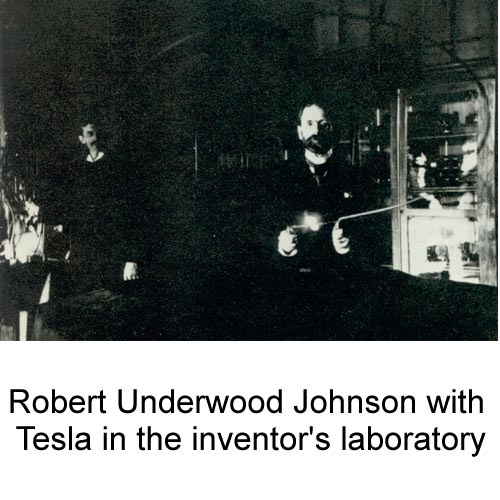 Nikola Tesla's private life is still an enigma. Being a loner, a bachelor, working alone, not entering into corporate associations and not mixing friends - his personal life was obscure to outsiders. His close friends were Robert Underwood Johnson, poet and editor of Century Magazine and his wife Katharine. Johnson's home on Lexington Avenue, Manhattan, New York City during the 1890s was the place where Nikola Tesla met many of his friends.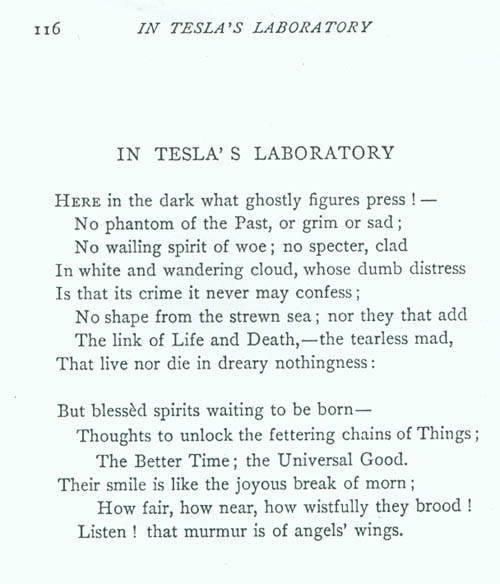 Above: Poem written by Robert Underwood Johnson about Tesla's lab.
Nikola Tesla called Mr. Johnson, "Luka Filipov" and Madame Johnson, "Miss Filipov". Luka Filipov was a Serbian Montenegrin hero from the "Battle on Vucji Do" in Montenegro, 1876 between Montenegrins and Turks. Luka Filipov captured in the "Battle on Vucji Do" the Turkish commander Osman Pasa and brought him to the Montenegrin King Nikola Petrovic. Above his heroism in the "Battle on Vucji Do" the famous Serbian poet Zmaj Jovan Jovanovic wrote a poem called "Luka Filipov". Nikola Tesla translated the poem from Serbian to English and the poem was published in Century Magazine.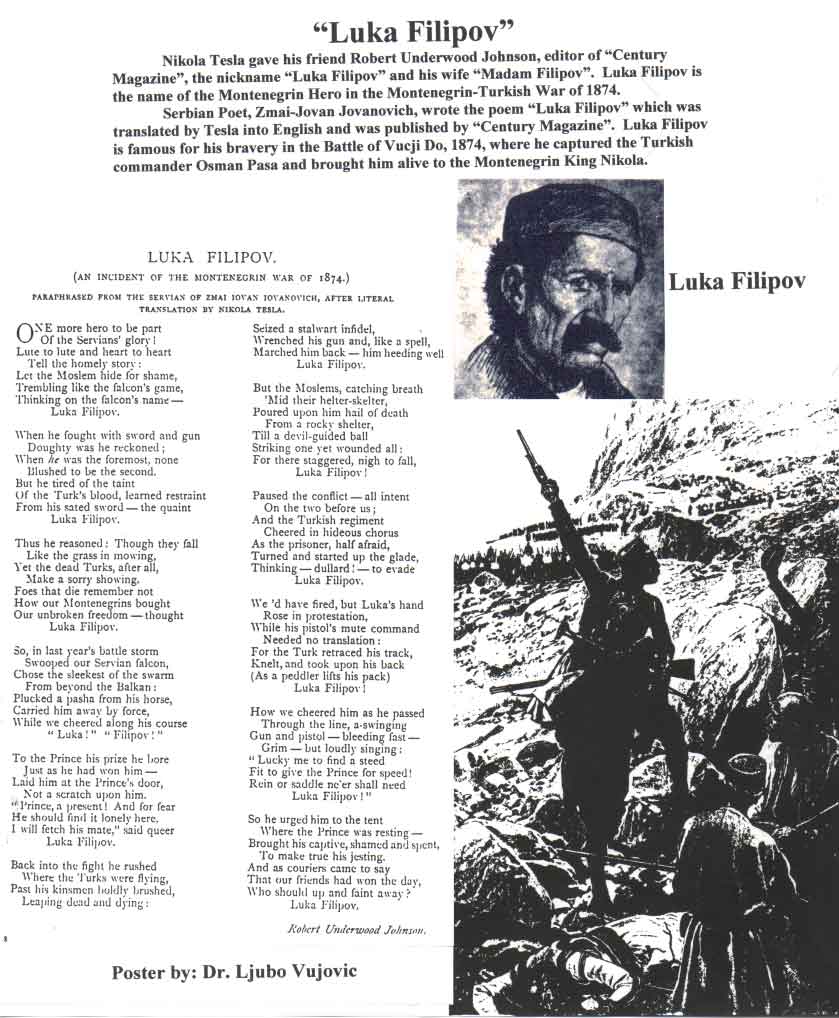 Tesla met Anthony Dvorak, the famous Czech composer and music genius, in the home of Robert Underwood Johnson and his wife Katharine. The Johnson's home was located at 327 Lexington Avenue in Manhattan, New York City. It was a fashionable home of the editor of Century Magazine and Tesla's friend Robert Underwood Johnson. At the Johnson's home, Tesla met famous and important people such as Rudyard Kipling, the English poet and recipient of the Noble Prize for literature 1907. Kipling was born in Bombay, India.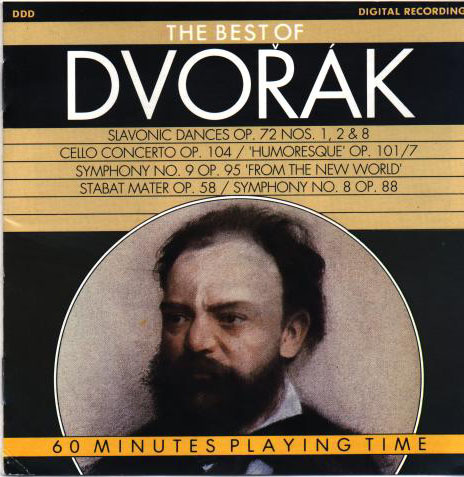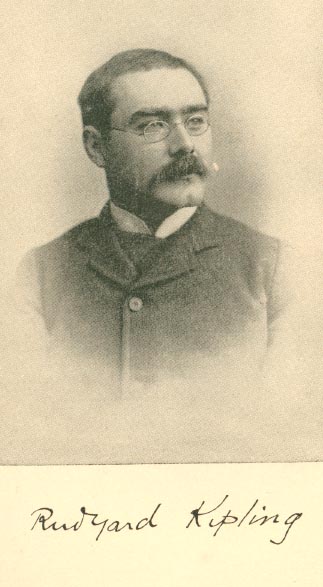 Tesla also met Ignace Paderewski (1860-1941), Polish pianist, composer and statesman. Paderewski was representing Poland in the Versailles Peace Conference in 1919 and serving for ten months as premier of a coalition ministry of the Polish Government. In Johnson's home Tesla met writers John Muir and Helen Hunt Jackson, and the prima donna Nellie Melba and many politicians and socialites, including Senator George Hearst.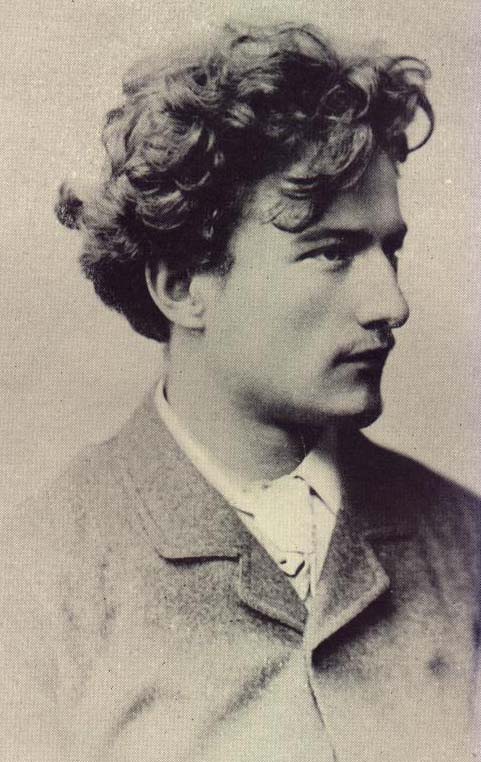 Ignace Paderewski (1860-1941), Polish pianist, composer and statesman. Prime Minister of Polish Government.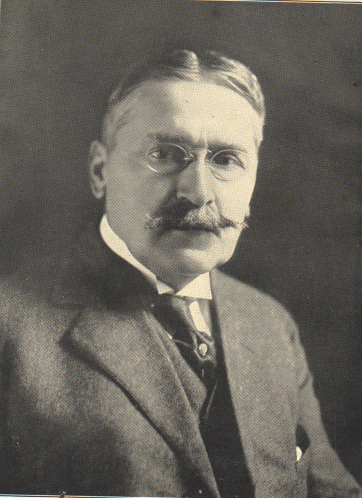 Above: Michael Idvorsky Pupin (1854 -1935)
The famous Serbian-American scientist and inventor Michael Pupin was also a guest at Johnson's home.
In 1883, three men who have since become world famous were at the University of Strasburg, although they were then unknown to each other or to fame. They were Paderewski, Roentgen, the discoverer of x-rays and Tesla. All there men became friends and became famous.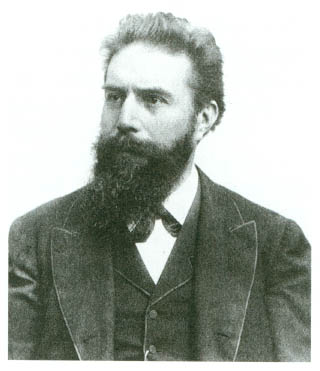 Above: Wilhelm Conrad Roentgen, discoverer of x-rays.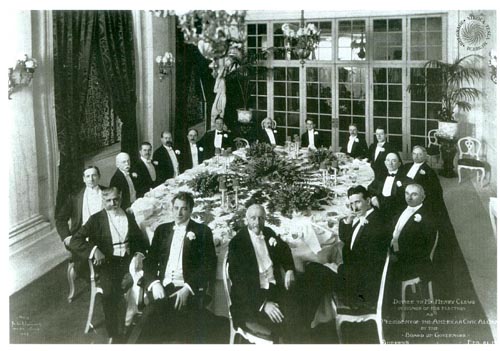 Above: Dinner to Mr. Henry Clews with the Board of Governors, February 1910, New York. Tesla is second from right.