Premiere of Nikola Tesla Opera in Australia, the city of Hobart
Written by Dr. Ljubo Vujovic
"Tesla: Lightning in His Hand" the new Opera has completed its World Premiere Season during March - April 2003, in the city of Hobart, Australia. The Opera was produced by Constantine Koukias, a well-known artistic director of the "IHOS: Music Theatre and Opera" in the city of Hobart, Australia. This Opera is based on major episodes in the life of Nikola Tesla (1856 - 1943), such as his friendship with the famous Czech Composer Anthonin Dvorak and The War of the Currents with Thomas Edison. Anthonin Dvorak was the director of the National Conservatory of Music in New York between 1892 to 1895. Tesla met Dvorak in the home of Robert Underwood Johnson and his wife Katharine. The Johnson's home was located at 327 Lexington Avenue in Manhattan. It was a fashionable home of the editor of Century Magazine and Tesla's friend Robert Underwood Johnson. At the Johnson's home, Tesla met famous and important people such as Rudyard Kipling, the English poet and recipient of the Noble Prize for literature 1907. Kipling was born in Bombay, India.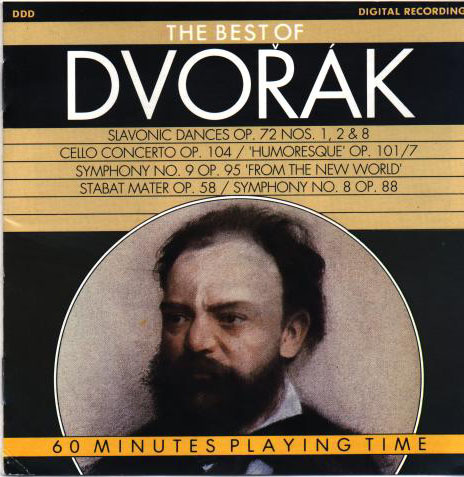 Tesla also met Ignace Paderewski (1860-1941), Polish pianist, composer and statesman. Paderewski was representing Poland in the Versailles Peace Conference in 1919 and serving for ten months as premier of a coalition ministry of the Polish Government. In Johnson's home Tesla met writers John Muir and Helen Hunt Jackson, and the prima donna Nellie Melba and many politicians and socialites, including Senator George Hearst.
The famous Serbian-American scientist and inventor Michael Pupin was also a guest at Johnson's home. In 1883, three men who have since become world famous were at the University of Strasburg, although they were then unknown to each other or to fame. They were Paderewski, Roentgen, the discoverer of x-rays and Tesla.
The Electrical review from March 25, 1896 published the interesting article: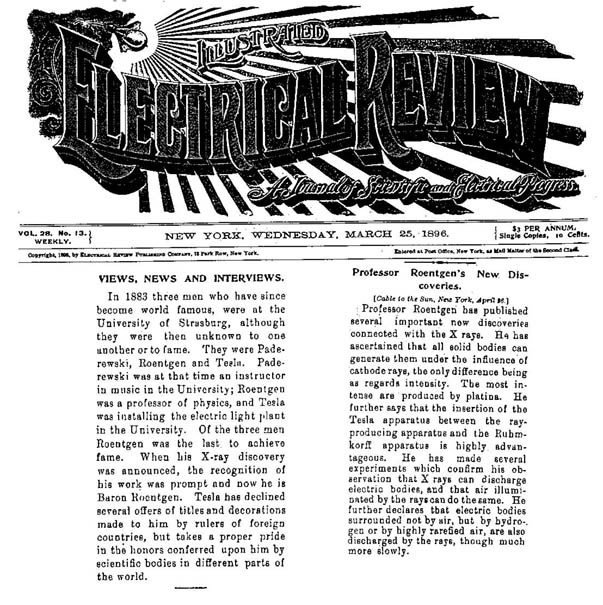 In the Tesla Opera in Australia, there was the use of the "Tesla Coil" in the performance as well as Serbian Orthodox Chant, and quote of Dvorak Symphony No. 9 "From the New World" performed by NY Philharmonic Society, 16 Dec. 1893, which Tesla saw the premiere of in New York. We are grateful to Mr. Matthew Dewey for his information about the event.
For more information about the Opera click here